---
by
---
"A grim continuum is discernable from the secret police reports of the '60s, culminating in the skewed structure of the inquiry tasked with investigating them. This continuum of state surveillance, racism, misogyny, homophobia, Empire nostalgia and 'post-truth politics' is part and parcel of an authoritarian imperative to go backwards, from action on the climate emergency to trashing women's and workers' hard-won rights, while preserving imperialism and racism amid an outpouring of white denial."

Diane Langford, opening statement to Undercover Policing Inquiry, 2021
Das Leben der Anderen (The Lives of Others) made a deep impression on freedom-loving cineastes and democrats around the world and, in 2007, won an Oscar for best foreign movie. The film, set in 1984, depicts the Stasi's Hauptman Ger Wiesler, code name HGW XX/7, who was ordered to spy on a left-wing playwright.
Released 17 years after the fall of the Berlin Wall, The Lives of Others inspired Guardian critic Philip French to write: 'We see the Stasi at work, doggedly recording everything for the organisation's files, with entries in their log such as — noting the end of a birthday party — "Unwrap presents and then presumably have intercourse."
French notes: "Their targets, however, are largely innocent of any plans to undermine the state. The theatre people are dedicated socialists who merely seek artistic freedom and a certain licence to criticise and exercise democratic rights."
In 2011, Anna Funder's Stasiland was hailed as a "masterpiece" and a "classic", and won the UK's most prestigious prize for non-fiction published in English, the Samuel Johnson (now Baillie Gifford) Prize. An international best-seller, it has been published in 28 countries in many editions and languages, adapted for radio, including broadcast twice as BBC Book of the Week, and stage, including by the National Theatre, London. It is studied both as literature and history in schools and universities around the world.
Yet there has been scant acknowledgement that Britain's version of the Stasi, an outfit called the Special Demonstration Squad, spied on countless "dedicated socialists who merely seek artistic freedom and a certain licence to criticise and exercise democratic rights". And no acknowledgement that they also spied on countless civilians who were neither socialists nor activists who still have no idea that their names are inscribed in the annals of the Special Branch and M15.
From the 1960s my family, including my baby, were among those spied on. There's no certainty as to when this surveillance began and when, or if, it has ended. Fifty years later, some of my files have been opened up. Not all. After agreeing to participate in the ongoing Undercover Policing Inquiry and receiving and reading the files' contents, I revisited Philip French's critique of the Oscar-winning movie and was astonished by the glaring parallels between the Stasi and the Special Demonstration Squad (SDS):
The Lives of Others subtly evokes a vindictive society that exists by turning citizens against each other in the interests of national unity and collective security. It serves as a major warning to ourselves and our elected leaders about where overzealousness and lack of respect for individuals and their liberties can lead.
And
When Dreyman the playwright visits the former Stasi headquarters, a trolley is required to bring in his bulky files. Reading them provides him with something like the walk down a nightmarish memory lane …
If we wanted to move the photocopied files in our witness bundles and accumulated paperwork, we non-state witnesses would require a lorry. Where are the original files housed? Who has access to them?
Like the fictional Dreyman, none of us were prepared for the "nightmarish memory lane" that lay ahead in the form of the Undercover Policing Inquiry.
The SDS had used my contacts to infiltrate the Women's Liberation Movement and terrorised a friend of mine who'd inadvertently "outed" one of them.
According to this secretive "public" inquiry, which was set up in 2015, the lives of thousands of members of the public were intruded on. Intimate details of individuals who'd committed no crime and may not even have been activists were harvested by the SDS. Samples of handwriting were stolen, keys were stolen and copied, workplace details, bank-account numbers, DHS, school and student records scavenged and sent to "Box 500" — a reference code denoting M15. The SDS, an appendage of Special Branch, even sent details of my childcare arrangements to Box 500.
alias HN45
A sharp-eyed researcher from the Undercover Policing Research Group tracked me down 18 months ago after finding a blog I'd published in 2015 detailing the unmasking of "Dave Robertson" — known to the inquiry by code name HN45. His actual name will never be made public, as Sir John Mitting, chair of the inquiry, has granted anonymity to HN45 and nearly all the other spy cops who remorselessly collected personal information about "subversives" while sexually abusing scores of women.
If you were critical of any aspect of the state or deemed in any way "outside" the system, you were a subversive. "Sandra", the undercover officer (UCO) code name HN348, who spied on the Women's Liberation Movement, regarded women kissing as subversive, and if you had a lax attitude towards "displays" of same-sex affection you were immediately in the frame and in "Sandra's" notebook. UCOs and their handlers all concurred that people of colour were subversives per se, and the colour of your skin was noted as well as the numbers of you present in a room. Ironically, such female officers were paid less than their male counterparts while spying on feminists campaigning for equal pay.
"Dave Robertson" defined as subversive the fact that my partner in our mixed-race marriage stayed at home and looked after our baby while I worked. This was reported to his handlers as it was considered a threat to patriarchal hetero-normativity and, hence, the state itself.
At first, I had declined to get involved as a witness, wary of revealing the name of my friend — "a member of the public" according to the inquiry — who'd been instrumental in confirming that HN45 was indeed a UCO. Given the ubiquity of the venomous "old boys' network", I believed she might be approached even now and retraumatised. I have no guarantee that she has not.
At the end of last year, I was contacted again by the same researcher and told about "Sandra". This was a shock as I'd been unaware that the tiny group I'd jointly founded, the Women's Liberation Front, had been intensively surveilled. Next, I received a call from a lawyer representing women whose lives have been devastated by learning that men with whom they'd lived as couples and had children with had been revealed to be spy cops.
Journalist Anne McElvoy provided another parallel with the Stasi in her 2012 Evening Standard article headed "Sex, lies and the Stasi", in which she recalls being told in detail of "Romeo spies": Stasi officers who would lure West German women in sensitive jobs into relationships.
Deceived
Meanwhile, in the UK, if you were a woman campaigning for social justice, you may have been deceived into an intimate relationship with a spy cop, a practice accepted as a perk of the job. If your child was brutally murdered by racists and you tried to get justice, you were routinely spied on, as in the case of Stephen Lawrence. If your partner was clubbed to death by police while trying to prevent the National Front from terrorising the citizens of Southall and you tried to get justice, you were, inevitably, spied on, as in the case of Blair Peach. If you were a trade unionist trying to get justice for workers injured at work, you were not only spied on but also placed on a so-called blacklist, as in the case of Dave Smith.
If you opposed South African apartheid and organised protests against visiting all-white sports teams, you were spied on. Back in the day, Peter Hain — now "Lord" Hain — was designated a terrorist sympathiser by Special Branch. Appearing before the Undercover Policing Inquiry, Hain robustly accused his inquisitor of failing to see that those who defended apartheid had ended up on the wrong side of history. But still the inquiry tried to justify the surveillance of Peter Hain and others.
I was furious when Hain threw the late Louis Eakes under the bus by joining in the general homophobia exhibited by both the spy cops and the inquiry, referring to Louis as "flamboyant" and "attention-seeking". Eakes was a champion of Palestinian human rights whom I'd encountered on a solidarity trip to Algeria in 1969. He was also a victim of the so-called "pretty policemen", a part of Special Branch undercover activity set up to entrap gay men.
I agreed to become a non-state core participant (NSCP) in the inquiry to enable me to speak out about the state-sponsored institutional sexism, racism and homophobia discovered in my files. Probing by my lawyers disclosed many more files than those initially disclosed by the inquiry in which my name was mentioned. Yet they had to plead with the chair to obtain my NSCP status. This delay left me with only a small window of time in which to prepare a 106-page witness statement, analysing every grubby, petty-minded and vindictive Special Branch report in my bundle and to write a 50-page opening statement that was prerecorded due to my poor health and perceived Covid risk.
Grilling
A few days after my opening statement was broadcast, I was subjected to a three-hour grilling by Kate Wilkinson QC, acting on behalf of the inquiry. Ms Wilkinson tried to justify SDS spying by asking leading questions designed to show that I was a danger to the state.
I felt I was on trial. The session began with Mitting reading out restriction orders imposed by him threatening me with being taken to the High Court to be dealt with as if in contempt if I committed a breach.
Nearly 50 years after the event, I find myself looking at a Special Branch report on a Zoom screen. I'm told the reason I haven't seen it before is because I wasn't present on that occasion and therefore the file had not been included in my witness bundle. And yet I remember being there, being awed that a formidable radical playwright, John Arden, and his equally formidable partner, Margaretta D'Arcy, are sitting in my front room for a gathering of like-minded activists. I remember hoping the tea I made for them was OK. Arden's play Sergeant Musgrave's Dance had been staged at the Royal Court in 1959, music by Dudley Moore.
We chatted about the current political situation, the civil-rights movement in Ireland. "That's a good way to start a revolution," Ms D'Arcy reportedly said. Or did she? The only evidence she did say those words is in the report that I'm looking at on screen. This was cobbled together from the notebook of the spy cop who'd infiltrated our small group and was passed to "Box 500".
The QC, part of the inquiry team whose phenomenal earning power has already clocked up millions from the public purse, quizzes me closely about this throwaway remark that someone the spy cop has described as "the writer's wife" did, or did not, make. She did or did not make this remark on an occasion at which, I am told, I was not present. This was the quality of the accusatory line of questioning pursued by Ms Wilkinson on behalf of the inquiry.
For reasons known only to its one-man panel, the inquiry chooses to frame its investigation according to the contents of the dodgy dossiers compiled by the spy cops themselves.
When "Dave Robertson" was questioned by the same QC a few days later, he got an easy ride, despite changing his story several times and unconvincingly denying my account of his threat to my friend. Mitting, a former judge, barred Wilkinson from pursuing a line of questioning that could have caught "Robertson" out in a direct lie. Mitting then shouted, unprofessionally, at Phillippa Kaufmann QC, acting on my behalf, who sought clarification. "I'm not here to answer your questions!" he blustered. What the hell is he there for?
On the same day, an NSCP known as "Madeline" to protect her privacy, was subjected to an adversarial grilling about the intimate relationship she'd had with a man who she is adamant that she would never have consented to sleep with, had she known his true identity. Women who were violated in this way have identified what happened to them as "state-sanctioned rape". More of this is to come. Will women with other horrendous stories be expected to endure this harrowing process?
It's shameful that women have to give evidence of this nature in front of an out-of-touch white male chair who is making up the rules as he goes along. Lawyers led by Phillipa Kaufmann walked out at the start of Mitting's tenure to protest against the asymetrical structure and lack of diverse representation. Why is there not a panel comprising a diversity of expertise and backgrounds?
So far, "Madeline" is the only NSCP that the inquiry has managed to find on its own initiative. Her father lost family members in the holocaust, fought with the International Brigade, held the line against Mosley's fascists at Cable Street and was decorated for bravery in World War II.
She suspects that surveillance of her began when she was only 16 years old. Like her father, she is an anti-fascist, and was involved in the Battle of Lewisham, when activists confronted the National Front. Sarah Wilkinson tried to make out that "Madeline" was justifiably spied on by her abuser as some demonstrators had allegedly thrown bricks at fascists.
"Madeline's" moving testimony asserted: "The Battle of Lewisham is now rightly considered a watershed moment, like Cable Street, in the fight against fascism in this country. Unable to control the streets, the NF went into decline and the event is now proudly remembered as the moment when the far right was again defeated. It is now commemorated by the local council and seen as a symbol of a community coming together to say YES to black and white unity and NO to the forces of hate."
Excluded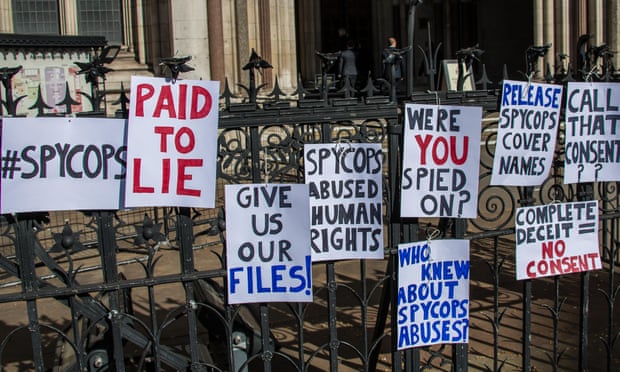 The machinations deployed by the inquiry to protect the spy cops is a continuation of the original disgusting behaviour of those slime-ball servants of state and societal patriarchy and racialised capitalism. Innumerable individuals and organisations have been excluded from the process, and the clock is ticking down. The inquiry was announced in July 2015 and only got under way in November 2020 after years of preliminary hearings. It has six tranches. If it progresses at the same rate, it will not get to the reporting stage until about 2037.
We need to see the files we know exist on the Black Freedom & Unity Party, the Spare Rib Collective, Greenham Common women, New Beacon Books and publisher John La Rose, the Gay Liberation Front, the women's liberation movement, progressive film and theatre groups, and hundreds of others referred to in files that are already available on the UCPI website. We need proper scrutiny by non-state, independent investigators.
As Donal O'Driscoll of the Undercover Policing Research Group has observed: "I have been left with the impression that the inquiry believes it can do its work without the non-state, non-police core participants if needed. That it can learn the truth adequately enough from material provided by the police. That it can interpret the events we lived through, the moments and movements we were part of, without our help. That the truth can be obtained from the words and documents of units whose core training was to lie to people and was willing to pervert the course of justice."
Shamefully, the Met has told the inquiry that it should not be judged by the standards of "back then". Whose standards is it talking about exactly? What has changed? And what is the point of the inquiry now that the Policing Bill has passed through the House of Commons, rendering all the iniquities of the spy cops completely legal?
Women NSCPs are asking for reform on the law of consent that has allowed impunity; they are objecting to the woeful treatment they're receiving from the inquiry, demanding full access to their files instead of the drip, drip, haphazard way the inquiry is releasing material. Whose information is it any how?
As "Alison" has pointed out: "Whenever the Mitting Report is written, it must come to the conclusion that the Metropolitan Police is institutionally sexist."
The upside to the inquiry is the wonderful solidarity that's developed between NSCPs from the multilayered aspects of the political surveillance we have all been subjected to, the tireless work of our legal teams, and the effect that this sham inquiry, and others like it, has had of forcing observers to join the dots and come to the realisation that the state itself is the connective tissue between all forms of oppression and injustice.
It is important to be aware of what is being done in terms of surveillance in today's political context. The Johnson administration's Trump-like clampdown on democratic expressions of dissent, freedom of assembly, citizenship rights, voting rights and freedom of movement has been described as "troubling" by the United Nations special rapporteur on human-rights abuses. The Policing, Crime, Sentencing & Courts Bill that passed through the House of Commons in March includes a provision dubbed "the Gypsy passport" effectively introducing a form of apartheid that nullifies the citizenship of people from the Gypsy, Roma and Traveller community.
We have already witnessed schoolchildren being chastised for expressing concern about Palestine. Textbooks have been altered to absolve Israel of settler-colonial repression.
Social-justice campaigners need to investigate safer ways of organising that mitigate and disrupt the constant surveillance we are subjected to online.
Watch out for books authored by some of the amazing NSCP women, and a couple of documentaries by radical film-makers that are in the pipeline.
Please acquaint yourself with the Undercover Policing Inquiry by following:
https://spiesatwork.org.uk/resources-to-download
https://podcasts.apple.com/gb/podcast/bed-of-lies/id1537575625
---
Diane Langford is a Palestine Solidarity Campaign activist, novelist, trade unionist, women's liberation movement activist, LGBTQ and NHS campaigner.
---
Whitstable Views: How You Can Help
Make sure you share and like our articles on Facebook and Twitter, and whatever other social-media platforms you use.
Follow the site to get regular updates about new articles when they appear. Press the "Follow" icon in the bottom right hand corner of your screen and that will take you to the option to sign up. (It disappears as you move the text down, then reappears as you move it back up again!)
Leave comments on the site rather than on Facebook. Let's get a debate going. All of our contributors are willing to engage with you if you leave a comment.
To all writers out there, we would LOVE you to make a contribution. Read our submissions page for details on how to go about that: https://whitstableviews.com/submissions/
Finally you can donate. As little as £1 would help. Details on the donations page here: https://whitstableviews.com/donate/