by
---
Just try to visualise one thousand Olympic-sized swimming pools all full to the brim with untreated sewage, because that is what Canterbury City Council is proposing as part of its draft Local Plan to 2045.
To be more precise, 31,000 new houses are proposed across the district. About 1,940 of them are designated for South Whitstable and at Bodkin Farm, creating a congested urban concrete sprawl between the old and new Thanet Way. The numbers of houses are way out of line with official population growth predictions, most of them will be large luxury homes well beyond the financial reach of local first time buyers and built on farmland and greenfield sites. These are commonly known as 'cowpat' developments, disconnected from local communities, infrastructure and public transport connections.
And of course, all those extra toilets and smart en-suite bathrooms will create 2.7 million cubic metres of added sewage use which is about six times more than the most likely forecasts of the water companies. That's also equivalent to 1,080 standard Olympic-sized swimming pools of human waste and there are no prizes for guessing where it will all end up.
That's one reason why more than 800 people have already signed the Green Party's New Year petition to HALT further housing development until sewage pollution stops. It's part of a wider campaign to oppose the Local Plan which Greens say will destroy wildlife habitats and precious green spaces to create more concrete, traffic congestion, air pollution, carbon emissions and of course more sewage pollution—all in order to fund a bypass nobody wants.
"It is glaringly obvious that the Council plans to build far more houses than are necessary in order to finance a new bypass from levies on developers," says Green Councillor, Clare Turnbull.
Of course, it's not just the Green Party which recognises that the current wastewater infrastructure is archaic and inadequate. Justifiable outrage over sewage pollution caused by Southern Water transcends political allegiances. It is now a major threat to public health, marine ecosystems and the economic future of our seaside communities. Despite local protests, public meetings, extensive media coverage, petitions and even a bill payment boycott—the problem is only getting worse. Much worse.
On 9 January this year after an hour or two of rain, SOS Whitstable, who have led many local protests raised the alarm that Southern Water made two separate sewage discharges which continued without interruption for 34 and 45 hours respectively. Southern Water don't disclose how much sewage that is—but it's a lot.
Independent water quality testing undertaken by local Green Party activists at Hampton Pier regularly shows E-coli pollution levels so high that in the USA it would trigger an emergency beach closure on public health grounds. Here Canterbury City Council, Environment Agency and Southern Water rarely bother testing bathing water quality in winter, and if they do, never publish the results.
Given the scale of the sewage pollution emergency and the strength of public feeling, you might expect drastic improvements to sewage and wastewater infrastructure to be a major priority for the 283-page Local Plan. After all, according to Canterbury City Council, it's "one of the key corporate strategies produced by the council and sets the framework for how the district is expected to grow and change in the future; identifying how and where development is expected to take place, and which areas need to be protected".
Yet if you read Chapter 3 devoted to Whitstable you will find not a single mention of sewage pollution, wastewater services or bathing water quality. Neither is it mentioned in the Environmental Strategy for the District on page 9.
And judging by responses on social media to the Greens recent petition to HALT housing development until sewage pollution stops Council leader, Ben Fitter-Harding, does not even see it as his problem.
---
---
On January 6 on Twitter, Mr Fitter-Harding described the Green's campaign as a "waste" because it only gave residents "false hope" and that Canterbury City Council "has no power to do what you're suggesting" and was "unable to act" to solve the problem. Actually, that's not true.
Legal advice obtained from the Environmental Law Foundation reveals that the National Planning Policy Framework (NPPF) which drives Local Plans states that planning policies and decisions should contribute to and enhance the natural and local environment by amongst other things: "preventing new and existing development from contributing to, being put at unacceptable risk from, or being adversely affected by, unacceptable levels of soil, air, water or noise pollution or land instability.
"Development should, wherever possible, help to improve local environmental conditions such as air and water quality, taking into account relevant information such as river basin management plans."
It is difficult to understand why Canterbury City Council and Mr Fitter Harding prefer to wash their hands of the sewage pollution crisis when they appear to have a statutory obligation defined in the NPPF. Their draft Local Plan is not fit for purpose because it offers an open license to luxury housing developers to run rampant and make huge profits while it ignores arguably the biggest single local planning/infrastructure and environmental issue affecting people's lives in our coastal towns.
Greens in other areas like Lewes in Sussex are already challenging the intransigence of local authorities and forcing them to take responsibility for the environmental impact of new housing development. A new Lewes District Council motion will mean that for the first time, Southern Water will be asked to make clear the impact of new development on sewage discharge into local rivers and seas, when they respond to planning applications. Believe it or not, the current planning system assumes that there will be enough wastewater capacity for new development despite the clear evidence that this is not the case. The change may not solve sewage pollution overnight but it would be the first positive step in taking responsibility and addressing the sewage pollution crisis locally. And the government has recently lifted its mandate on new housing targets so there is simply no compulsion to build them until robust wastewater infrastructure is in place.
Of course, in the middle of a cost of living crisis, with rising fuel bills, cancelled trains, industrial unrest and the NHS at breaking point, this may all seem a bit trivial but swimming in one thousand pools of sewage is not a credible Local Plan—it's a suicide note for our coastal towns.
In a recent statement Mr Fitter Harding says he wants people living, working and studying in the district and who have real-life experiences of the challenges they face to have their say on the draft local plan before the consultation closes next week. So please take a look for yourself and tell the Council what you think or you can sign the Green Party petition today because the public consultation period expires at 5pm on Monday 16 January.
---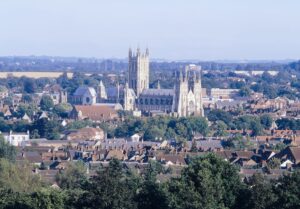 Have your say here: https://online1.snapsurveys.com/interview/87642419-876b-4d3a-8a8b-6898fc2d69ce
Sign here: https://www.change.org/p/canterbury-city-council-no-more-housing-developments-until-sewage-pollution-stops
---
Stuart Heaver
Professional journalist and author.
My new book was published by The History Press on 23 June 2022.
South China Morning Post – The Independent – Hong Kong Free Press – Who.What.Why. – Byline Times – Fragrant Harbour – New Lens International – Daily Telegraph – Post Magazine – Sailing Today
Follow @stuartheaver on Twitter
---
Whitstable Views: How You Can Help
Make sure you share and like our articles on Facebook and Twitter, and whatever other social-media platforms you use.
Follow the site to get regular updates about new articles when they appear. Press the "Follow" icon in the bottom right hand corner of your screen and that will take you to the option to sign up. (It disappears as you move the text down, then reappears as you move it back up again!)
Leave comments on the site rather than on Facebook. Let's get a debate going. All of our contributors are willing to engage with you if you leave a comment.
To all writers out there, we would LOVE you to make a contribution. Read our submissions page for details on how to go about that: https://whitstableviews.com/submissions/
Finally you can donate. As little as £1 would help. Details on the donations page here: https://whitstableviews.com/donate/