Photo: Martin Forde on Al Jazeera
by
---
I am in my 60s. I have voted Labour ALL of my voting life and I now cannot and will NOT, vote Labour. I will vote for an Independent Socialist or a Green (the latter if I think that they're a socialist Green candidate).
Why have I changed my mind after a lifetime of voting Labour? ~ Because I know from being an ex-Labour Party member, that the Labour Party is even more deeply corrupt and dishonest than the Conservative Party. Despicable though it is, the Conservative Party doesn't witch-hunt and smear it's own members!
Undemocratic
I know that the Labour Party is totally undemocratic. The Labour Party PLP and its staffers colluded with the Conservatives, and even voted Conservative themselves, in marginal seats in an orchestrated attempt to stop their own Party's twice democratically elected Labour leader at the time of the 2017 and 2019 General Elections, Jeremy Corbyn, from becoming Prime Minister and he missed doing so, by just 2,227 votes in the General Election of 2017.
Many New-Labour, "Blairite" MPs and staffers deliberately threw a democratic General Election in the U.K. This is not only very wrong, it's also extremely serious. We know this happened, because the then Labour General Secretary, Iain McNicol, and his Labour staffers and also some Labour MPs had their private WhatsApp conversations leaked.
These leaked WhatsApp text conversations are truly shocking. They prove that there was orchestrated planning and collusion with the Conservatives against Jeremy Corbyn and against all those within the Labour Party who supported Jeremy, and that there was plotting, awful bullying, undemocratic behaviour and a vile deep rooted and targeted racism.
These conversations also show that there is a hierarchy of racism in the Labour Party. The Labour Party also even engaged in regularly spying on its own socialist Party members and many of its pro-Palestinian MPs and members.
History will show this to be a very dark and unsavoury period in the history of the Labour Party which, by doing all of this, has proved itself to be a deeply undemocratic Party. Most Labour MPs orchestrated coups against Jeremy Corbyn when he was their twice democratically elected Labour leader.
Ten Pledges: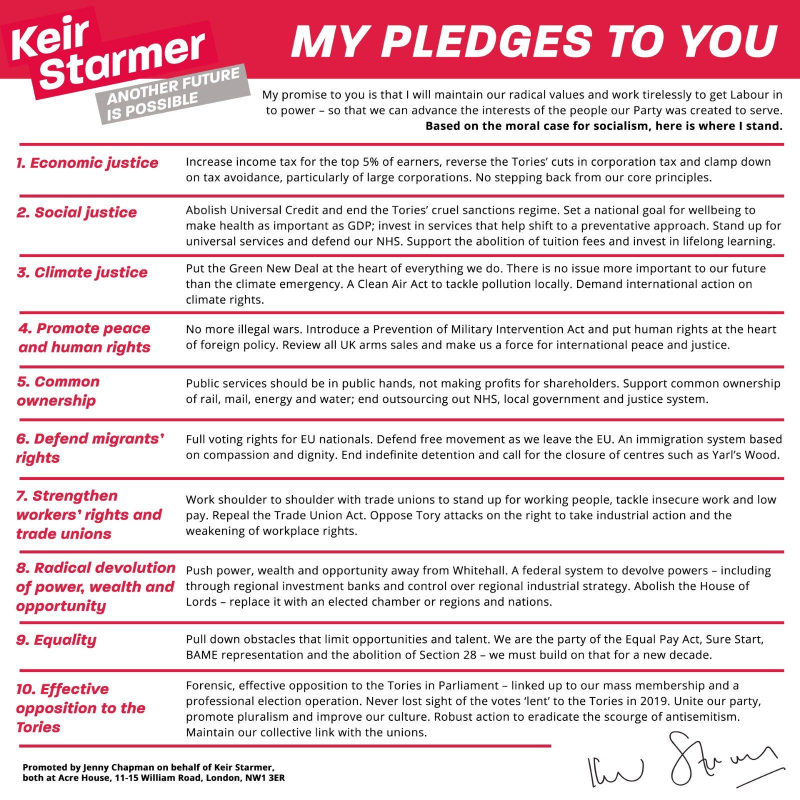 Keir Starmer came to be Labour Leader in April, 2020, because he was elected on 10 Pledges which he's now broken – yes he's reneged on each and every single one of them! Once he became Labour leader, Keir Starmer took the Party Whip away from Jeremy Corbyn thereby forcing him be an Independent MP and no longer a Labour MP.
Very recently, Keir Starmer presented a Motion to the Labour NEC (which is now to the political right of the Party owing to Keir Starmer's relentless purging of socialists from the Labour Party under false accusations of antisemitism). The Motion Keir Starmer presented to Labour's NEC was passed by Starmer's supporters on the NEC and the Motion was to prevent Jeremy Corbyn from standing for Labour in his own constituency of North Islington where he's stood ever since 1983 and is held in very high regard by both his constituency members and Labour voters alike.
This is a despicable thing to have done. Only the Labour Party members in each constituency have the right to select their Labour Prospective Parliamentary Candidate. This right has effectively now been taken away from all Labour constituencies and all because of Keir Starmer's and his New Labour controllers behind the scenes (Peter Mandelson being just one of them) hatred and fear of Jeremy Corbyn and his socialist supporters.
McCarthyism
I am attaching links below to several videos available on YouTube which bear out all that I have said and I urge people to watch them. Ordinary committed Labour members talk about their truly awful personal experiences within the Labour Party, which has behaved just like Joseph McCarthy with his dreadful Witch-Hunts in 1950s America. This era of fear became known as McCarthyism and we are now living in the Witch-Hunt for Socialists in Keir Starmer's Labour Party perhaps these dark days will be known as "Starmerism"?
What I now know for sure, is that Britain is a one Party state. The Conservative Party and the Labour Party are two sides of the same coin. The Labour Party is dead for ordinary working people. I invite you to watch the links below which will show you just how very bad the Labour Party has now become. I also invite you to be the change you want to see in our country. Change always starts with one individual not doing what they've always done before. ~ Vote Socialist, Independent or Green Party in the upcoming local elections on May 4th.
---
---
Pet owner & animal lover, socialist/green arts & music lover, believes a sense of humour is vital!
---
Ways You Can Help Whitstable Views:
Make sure you share and like our articles on Facebook and Twitter, and whatever other social-media platforms you use.
Follow the site to get regular updates about new articles when they appear. Press the "Follow" icon in the bottom right hand corner of your screen and that will take you to the option to sign up. (It disappears as you move the text down, then reappears as you move it back up again!)
Leave comments on the site rather than on Facebook. Let's get a debate going. All of our contributors are willing to engage with you if you leave a comment.
To all writers out there, we would LOVE you to make a contribution. Read our submissions page for details on how to go about that: https://whitstableviews.com/submissions/
Finally you can donate. As little as £1 would help. Details on the donations page here: https://whitstableviews.com/donate/