by
---
I was an election virgin until this year. Then I decided to nail my colours to the Green Party political mast and having volunteered to help in the local election campaign was promptly asked if I possessed the key weapon for fighting any hard-fought local political battle: the spatula?
The common kitchen spatula is essential for ramming election leaflets through voter's front doors while avoiding fragile fingers being torn by stubborn letterboxes or bitten by over-enthusiastic guard dogs.
Electioneering is surprisingly low-tech and very hard work. Canvassing (bashing on doors and asking residents politely about their voting intentions) is the backbone of traditional British representative democracy but sadly not all the electorate of Canterbury District seemed to fully appreciate it.
"I hate you all because you are all crap—all in it for yourselves," raged one neatly dressed middle-aged man in Herne Bay.
"And as for you lot—you all love chicks with dicks," he added before executing a quick about turn and disappearing through the side gate of his house from which he had emerged a few seconds earlier.
His anger-filled outburst was provoked by me apologising for disturbing his Sunday morning and politely introducing myself as a member of his local Green party offering information about the forthcoming local election.
As he disappeared and I stood alone on his immaculate block paved drive, I noticed that the front door was now opened and a women I assumed was Mr Angry's wife, was scowling at me with a distinctly hostile expression.
"Do you share the same views madam?" I asked, smiling sweetly to try and lighten the mood.
She nodded severely with pursed lips and slammed the door in my face.
At times, I felt like a magnet for extremists. My impression overall was that much of this part of east Kent remains a bastion of bungalow bigotry.
Of course, most people are nice and the vast majority are at least polite—even those who don't support the Greens—but there was evidence of a lot of frustration and anger. One staunch Conservative told me that I seemed "a very nice young man" but she would still never vote Green and would be voting Conservative as usual. When I asked her why, she stiffened her spine and replied stoically:
"Because I am Conservative."
Most residents seemed uninterested or disillusioned by politics and political parties and who can blame them? If letting off steam at an unpaid canvasser on a Sunday morning makes someone feel better, I guess that's healthy but at the time, it was not something I always found very fulfilling or rewarding.
Apart from postal workers and Amazon delivery drivers, few get to see the front doors of hundreds of British homes in the space of a few weeks. The spy cameras, the burglar alarms, the security lights and the fierce notices warning canvassers, salesmen, religious groups and just about any other uninvited caller to stay well away. The vibe is hostility and fear.
Of course, I could understand that the elderly or those living alone might feel vulnerable or threatened but I witnessed young fit-looking males in the middle of the day, furtively lowering their kitchen blinds to avoid any interaction with the stranger on the doorstep.
Millions have made enormous sacrifices over the last century in defence of democracy and to confront dictators and authoritarian regimes. I wanted to explain to people on the doorstep that people I knew in Hong Kong were locked in prison without charge for just aspiring to democracy and the opportunity to vote for their political leaders. I rehearsed quite a pompous speech but fortunately for everyone concerned, I never had the chance to deliver it.
"Sorry mate not interested," was the most typical common response and even those who seemed politically interested and knowledgeable seemed to have given up.
One householder told me it was a two party state in the UK and he didn't have any interest in either of the duopoly so didn't vote. I met very few young people. One articulate young man, a student, living with his parents, told me his university friends were all planning to emigrate to Canada or elsewhere and they had no interest in post-Brexit UK politics.
Success?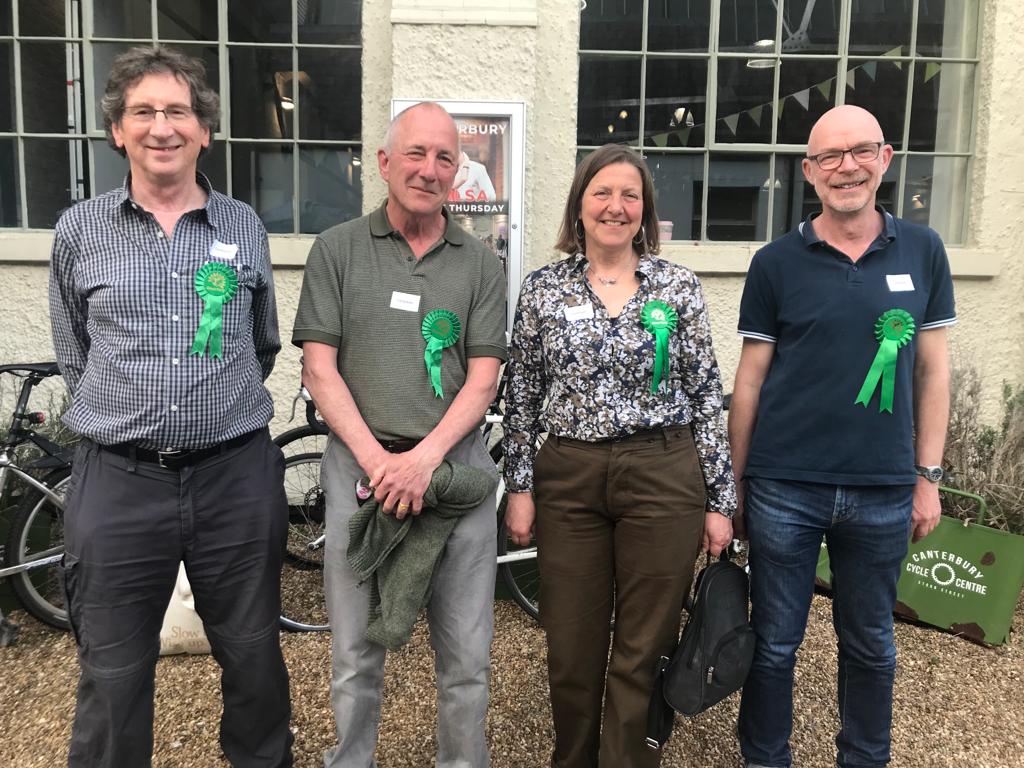 All the unpaid hard work paid off because the Greens did very well, as did Labour and the Liberal Democrats. I was more than happy to celebrate the success with colleagues and our four newly elected Green councillors on that Friday evening after the count. It was fun and I felt like I had made a modest contribution to something really worthwhile.
As the excitement wore off though, the unsettling anxiety returned. A 38% turnout in Canterbury District was actually a slight improvement on the previous election but it still meant that 62% of eligible voters just didn't bother. A sizeable majority disengaged.
The front page of the Kentish Gazette showed the Labour and Liberal Democrat leaders shaking hands on a brave new coalition deal —two old white blokes who, judging by the picture, clearly didn't like each other very much. The Greens weren't invited—apparently because an anonymous official at Labour HQ in London forbade it.
When I read that someone had been elected as the local sheriff I wondered if it was some sort of joke? It's rare to see a police officer in Whitstable these days but apparently we have our own sheriff. Really? And what exactly does a Mayor do except parade in elaborate costumes? It's difficult to see how we will get more people engaged in local politics if it is continually portrayed like a Dickensian pantomime and dictated to by party officials in London.
The sad truth is that despite the best efforts of many unpaid party volunteers, apathy, frustration and disengagement usually do much better at the local elections than any of the political parties.
Indifference was the clear local election winner in 2023 and that's something we should all be very worried about.
---
Stuart Heaver
Professional journalist and author.
New book was published by The History Press on 23 June 2022.
South China Morning Post – The Independent – Hong Kong Free Press – Who.What.Why. – Byline Times – Fragrant Harbour – New Lens International – Daily Telegraph – Post Magazine – Sailing Today
Follow @stuartheaver on Twitter
---
Whitstable Views: How You Can Help
Make sure you share and like our articles on Facebook and Twitter, and whatever other social-media platforms you use.
Follow the site to get regular updates about new articles when they appear. Press the "Follow" icon in the bottom right hand corner of your screen and that will take you to the option to sign up. (It disappears as you move the text down, then reappears as you move it back up again!)
Leave comments on the site rather than on Facebook. Let's get a debate going. All of our contributors are willing to engage with you if you leave a comment.
To all writers out there, we would LOVE you to make a contribution. Read our submissions page for details on how to go about that: https://whitstableviews.com/submissions/
Finally you can donate. As little as £1 would help. Details on the donations page here: https://whitstableviews.com/donate/