The blessing of the Lammas Loaf: Rev Simon Tillotson and Mark Hubbard, 16th July 2019
---
by
---
Whitstable Carnival Association is pleased to announce that the town's 125th anniversary carnival will take place, as it traditionally does, on the first Saturday in August 2022, which this year is August 6th.
We will assemble along Northwood Road and Pier Avenue, starting from 1pm. The procession moves off at 5.30, travelling along Tankerton Road, Tower Parade, Harbour Street, High Street, Oxford Street and Canterbury Road to Saddleton Road, where we will disperse. This usually takes around two hours.
During this time there will be road closures on all adjoining roads. If you need to travel to Whitstable on this day, please be patient, choose another route, travel early or delay your journey till its over.
The purpose of carnival is to bring the community together and to raise funds for various local charities. Carnival welcomes everyone and makes no distinctions based on class or race or age or sex. All you need to take part is a sense of fun. Carnival is play. It is frivolity. It is fantasy. It is a joyous expression of who we are as a community. It is an opportunity to show your wares, whether as a business or a charity or as a community organisation. It is about showing off. Show us who you are. Tell us what you are proud of. Make yourselves known. Be as bold as you like. Be as silly as you like. Be funny. Be friendly. Be kind. Be generous. Be a part of your community.
The first Whitstable carnival took place in 1897, but carnival itself is much older than that. The word is from the Latin "carne levare" meaning "leaving meat". Traditionally in the Middle Ages it took place around shrovetide, when the winter stores were used up in one final blow-out feast before the rigours of Lent. Famous carnivals include the Rio carnival (the largest in the world) and the Venice carnival (one of the oldest).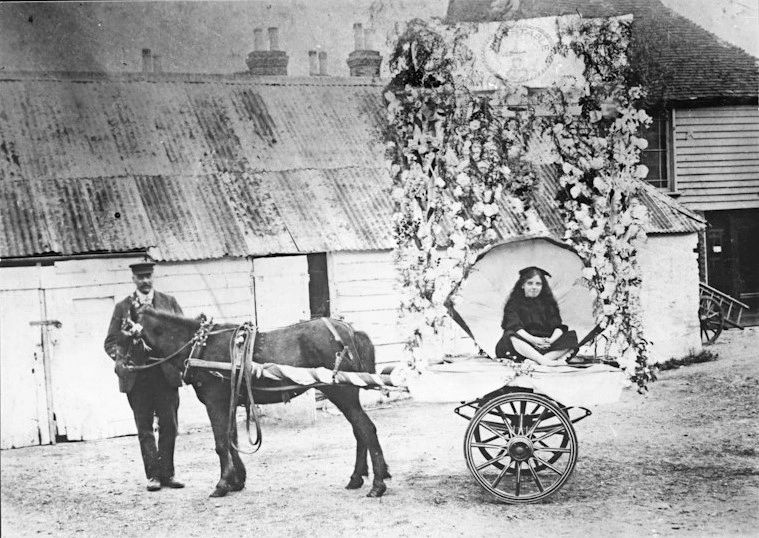 Later carnivals adopted the format but altered the date. Our Whitstable carnival takes place around Lammastide, and is a more modest affair. Looking at old photos – such as those in the Douglas West collection, currently held in the museum (see above) – you can see that people did whatever they could to make it as fun and as exciting as possible. So far it has survived two world wars and a pandemic.
Lammas Day, also known as Loaf Mass Day, is a Christian holiday celebrated in some English-speaking countries in the northern hemisphere at the beginning of August. The name originates from the word "loaf" in reference to bread, and "mass" in reference to the primary Christian liturgy celebrating holy communion. It is a festival to mark the blessing of the first fruits of harvest, with a loaf of bread being brought to the church for this purpose.
In 2019 Whitstable carnival invited Hubbard's bakery to bake us a Lammas loaf, which was blessed by the Rev Simon Tillotson on the afternoon of the full moon eclipse, Tuesday 16th July 2019, with these words:
"As this bread has different parts to it, but is one bread, so may the carnival, representing all the different bits of Whitstable, be knit together and woven together for your glory."
A second loaf was also made in time for the carnival, this time blessed by the Rev Tillotson and King Arthur Pendragon (senior Archdruid) and distributed to children on the parade.
We hope to repeat the ritual in 2022.
---
Instruction for entries
The theme of the carnival this year is pirates and smugglers, but it's alright, we won't make you walk the plank if you come dressed as something else.
Please approach along Northwood Road from its junction with Tower Parade (where the laundrette is). The carnival assembles along Northwood Road and Pier Avenue from 1pm. Carnival courts are to assemble on Pier Avenue, all the rest on Northwood Road. Please park in your preferred position and come to the office to register. New entries allowed till 4.30 on the day. The office is at 15 Pier Avenue. You can pick up collection buckets there. You need to register before 4.30, but if you want to take part in the prize giving, you have to be in position by 4pm. Judging starts at 4.15. The carnival leaves from Pier Avenue at 5.30 prompt. Be ready. Have a great carnival!
Instructions for onlookers
The procession starts at 5.30, passing Tankerton Circus at 5.40, Tower Parade at 5.50, the Duke of Cumberland at 6.10 and the East Kent at 6.30. These times are approximate. You should be at your vantage point early to get a good view. Please don't let children run into the road as the procession passes.
https://whitstablecarnival.co.uk/
---
Following is a gallery of photographs of the 2019 carnival courtesy of Gerry Atkinson: https://www.gerryatkinson.com/ Click on images to enlarge.
Video courtesy of Steve Doran:
Website: https://whitstablecarnival.co.uk/
Email address: carnivalwhitstable@gmail.com
Facebook page: https://www.facebook.com/WhitstableCarnival2019/
Facebook group: https://www.facebook.com/groups/877022822647559
Twitter: https://twitter.com/whitstableparad
Instagram: https://www.instagram.com/whitcarnival/
Our thanks go out to the two Carols, Sims and Simmons, and to all the other members of the previous Carnival Association, who kept the tradition going through the years.
Carnival in the Whitstable Gazette:
Whitstable Carnival Online:
---
About CJ Stone
CJ Stone is an author, columnist and feature writer. He has written seven books, and columns and articles for many newspapers and magazines.
Read more of CJ Stone's work here, here and here.
---
Ways You Can Help Whitstable Views:
Make sure you share and like our articles on Facebook and Twitter, and whatever other social-media platforms you use.
Follow the site to get regular updates about new articles when they appear. Press the "Follow" icon in the bottom right hand corner of your screen and that will take you to the option to sign up. (It disappears as you move the text down, then reappears as you move it back up again!)
Leave comments on the site rather than on Facebook. Let's get a debate going. All of our contributors are willing to engage with you if you leave a comment.
To all writers out there, we would LOVE you to make a contribution. Read our submissions page for details on how to go about that: https://whitstableviews.com/submissions/
Finally you can donate. As little as £1 would help. Details on the donations page here: https://whitstableviews.com/donate/