Whitstable Carnival 2022
---
by
---
(All photos by Gerry Atkinson unless otherwise stated: click on images to enlarge)
---
So that's it. Another carnival come and gone. Months of organisation, weeks of headache, days of intense activity, for a couple of hours of joyous noise and mayhem. And that's it! Over and done with for another year. Was it worth it? That's up to you to decide.
I've just got back from spending several hours with my hands up to my elbows in buckets full of coins. Start counting money for any length of time and you'll soon find out why they call it "filthy lucre". Money is dirty. Your hands become black with the accumulated residue of what other people's fingers have been rubbing into them.
We were a small band of dedicated money counters. Nick Dent, Tara Ballard, Belinda Murray, Rick West and me. Despite the grime, there's something soothing about the activity. It's meditative. We were sorting the coins into their different buckets: £2, £1, 50p, 20p, 10p, 5p and mixed pennies and tuppences, listening to the click and the clatter of the coins as we chucked them in the buckets, while chattering away amongst ourselves. It's a process of separating and then bringing together – solve et coagula – breaking the money down into its constituent parts, while moving towards that final summary figure: the total.
We're not there yet, although it looks like it will be in the region of £3-3 ½ thousand. Less than 2019 but still a serious figure I think. Later we will bank it. Later again we will get to the really good bit, which is doling it out to the charities.
---
The Blessing
The day itself was a blast of intensity: a thousand impressions coming at you all at once.
It began, for me, by collecting the Lammas loaf from Hubbard's bakery with Tara. The loaf came wrapped in paper and laid upon a tray, so we didn't get to see it at first. It took up half of the back seat of Tara's car. It was only later, once the Reverend Simon Tillotson had arrived, that we unwrapped it and saw it for the first time. And what a sight! It was about two and a half foot long by eighteen inches wide, a masterpiece of the baker's art: bread of life as edible painting, as if Van Gogh had made his starry, starry night in bread form, as something you could really get your teeth into. It was made up of individual swirls of sweet sour dough bread, smaller in the middle and then getting larger and larger in a spiral pattern, each section topped with a cherry ruby, like jewel encrusted limpets glittering in the underwater sunlight.
It was blessed by Simon at the gates of the carnival, at the opening of Pier Avenue, from where the procession would emerge in less than an hour. It was an opening in both senses of the word: an opening in space and an opening in time: the opening ceremony of the carnival itself.
Lammas is an ancient Saxon festival which takes place, like our carnival, at the beginning of August. It represents the first harvest, the gathering of the grain.
Here is what Simon said over the loaf, while making the sign of the cross:
Blessed are you, Lord God of all Creation. You bring forth bread from the fields and give us the fruits of the Earth in their seasons. Accept this loaf, which we bring before you, Made from the harvest of your goodness. Let it be for us a sign of your fatherly care, and motherly care. Blessed are you, Lord our God, worthy of our thanksgiving and praise. Blessed be God forever. In the name of the Father, the Son and the Holy Spirit. Amen.

Lammas prayer by Simon Tillotson
Here is Simon's account of the event: https://www.facebook.com/725021433/videos/541592854409910
---
The Lineup
---
In the Celtic world Lammas is also known as Lughnasadh, which means Assembly of the Sun, after the ancient Celtic sun god, Lugh. Lugh was there in his splendour that day too, shining down on us in all his fierce glory, and it certainly felt like that's what our purpose was, to be an assembly for the celebration of the sun.
Voltaire said: Let us meet four times a year in a grand temple with music, and thank God for all his gifts. There is one sun. There is one God. Let us have one religion. Then all mankind will be brethren.
After that I took the loaf down the length of the carnival where I shared it with the kids – and many of the adults too – only stopping occasionally to take a few nibbles myself. We all thought it was rather delicious.
The carnival was lined up along Pier Avenue and Northwood Road, a mad swirl of colour and activity, all the floats being assembled along the length of the two roads. I can't say that everyone was in the best of moods. There was some jitteriness and irritation in there amongst the laughter, a few peevish exchanges of words. Some people had underestimated how long it would take to set up their floats and were feeling the pressure.
I'm not sure how many people know what an immense amount of work is involved in the organisation of a carnival. It is a highly complex process, involving large numbers of different procedures: from organising the road closures, to organising the floats, to getting the public liability insurance, to booking the ambulance, to raising the money to allow all of this to take place. Putting up the gazebo in a friend's garden to act as the office and rallying point in the morning. Gathering the cups together. Printing the certificates. Buying rosettes and sashes. Collecting the Surrey carriage which will carry the carnival queens. Decorating it. Collecting Sam the Giant. Collecting the traffic cones to clear parking space. Putting out the barriers to close the roads. Getting all the marshals into position. Putting the table and chairs and PA system out in front of the Bowling Alley. Setting out the order of the floats etc. etc. etc. Everyone had his or her chosen part. Occasionally we clashed. Mostly we resolved our differences. We are a headstrong bunch with different ideas about how all this is to be achieved. I see us as a model for the future of mankind. If we can get on and work together and create this mad spectacle, and live to tell the tale, then maybe there's hope for us all yet. So far no one has been murdered.
---
The Winners
---
But eventually all of this was in place and the carnival was almost ready to go. Julie Wassmer and Graeme Bosley, as Jack Sparrow and Roger the Cabin Boy, gave out the prizes. You can see this in Gerry Atkinson's wonderful photos, which accompany this article. Julie's costume and ringlets were made by Christine Mackenzie. There's a lovely bit of film, made by Julie Wassmer, in which Graeme describes her as "a gay man trapped in a woman's body". I think this is true. The two of them were having a riotous time entertaining each other and their audience, the recipients of the prizes.
As is inevitable in all this complexity, there was a small cock up on the rosette front. Belinda had asked the rosette company to give us the same order as we had in 2019. They must have lost it. They sent us rosettes in two different colours, but all saying the word "winner". What can you do? We were sanguine about it, shrugging our shoulders and thinking, "in that case everyone will have to be a winner!"
Thus everyone was a winner at the Whitstable carnival this year, and everyone got a prize. Does that diminish the contest? Not for me it doesn't. It enhances it. It makes certain that no one will be left behind.
There was a brief hold up when the head marshal, Rob Holness, realised belatedly that there were no barriers up on Joy Lane, as there are supposed to be. We never knew this. We had put out the barriers up as far as the end of the carnival, on Saddleton Road, not thinking that traffic would need to be stopped from entering the carnival area from Joy Lane too. Of course it would! So there was a panicky drive to the end of the line to place barriers and marshals in position, before we could move off.
---
A Blast!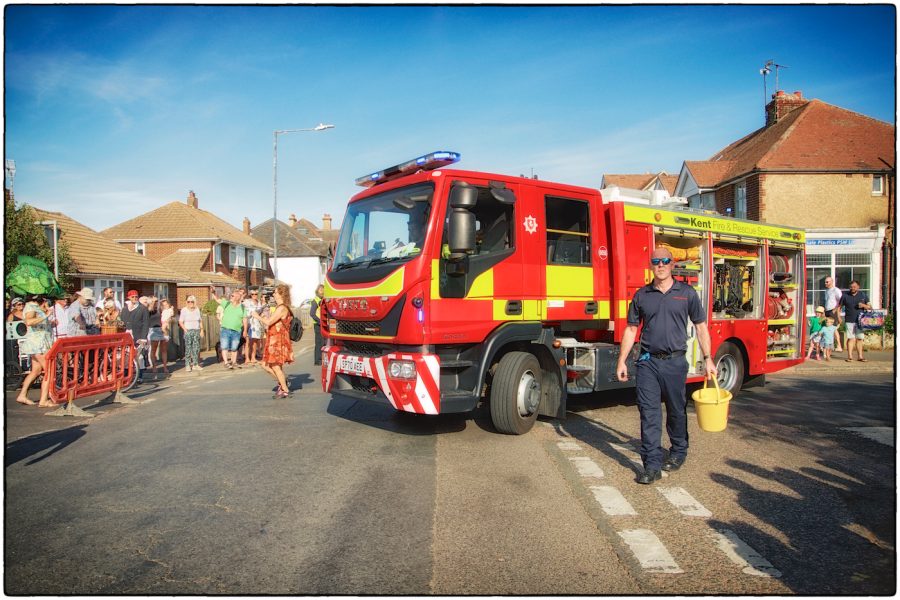 ---
And then, that was it! With a roar and a blast of the fire engines' siren, we turned the corner into the processional route along Tankerton Road: fire engine up front, followed by the sea scout's marching band, followed by CJ Stone, flanked by Tara and Rachel with their signs telling people not to throw coins (a thorn between two roses) followed by Nick's Mum and Dad in Nick's car pulling the Surrey carriage, with Summer and Mila, our Carnival Queen and Princess, followed by Sadie Hennessey on a vintage motorcycle and side car with a Queen Elizabeth mask hiding her face blasting out God Save the Queen by the Sex Pistols…..
---
A Sea of Humanity
---
After that it became a blur. We could see the giants teetering along behind us. There were three this year: our own mighty Sam, and Eleanor of Aquitaine and King Henry II made by Canterbury College art department. We were missing Flora the Singleton giant as their whole team had come down with covid just a few days before. We could hear the thunderous pounding drums of the Samba Pelo Mar, who kept up a relentless, intense rhythm throughout the carnival, a cascade of shifting patterns of sound, as if all the individual hearts of the drummers had fused into one – many legs, many arms, many drums, many heads, but only one heartbeat – whose purpose was to create a rhythm for the rest of us to dance to. We could see the wild fish heads and shimmering sea creatures of Total Pap undulating behind them. At one point, stopping and turning on the brow of the hill on Tankerton Road, we could see the entire procession stretched out behind, with all the crowds assembled on the roadside, a great sea of humanity unified in one beautiful, perfect purpose, to see, or to participate in, a carnival.
After that it was two solid hours of dancing and shouting, of addressing the crowd, of waving and calling out to friends by the roadside, or them calling out to us, stopping for a brief chat here and there before heading on our way, occasionally stopping to consolidate the procession, which was made up of many parts, all moving at different speeds.
---
The route is three miles long: that's a considerable distance for kids to walk, or to push a giant, or to beat out a rhythm on a drum, or to play in a steel orchestra. A long way to dance. A long way to weave a magic spell through the town. A long way to be alive, fully immersed in the moment, in the eye of the spectators, who were cheering us on our way. A long way along Tankerton Road to Tower Parade, passed the Gorrell Tank to Cromwell Road, passed the harbour entrance to Harbour Street. A long way along the High Street to Oxford Street and Canterbury Road. A long way to Saddleton Road. I rushed up ahead after the railway bridge to get to the turn with Saddleton so I could mark a place to drop the buckets. I had grand plans to direct all the traffic to Grimshill Road to drop the buckets up there, but I soon realised it was impossible. Too complex a set of instructions. In the end the buckets accumulated on the pavement at the junction, until the rear support vehicle came up, and we chucked them in there.
---
High points of the carnival? For me it was the Lammas bread and the blessing. It was the newly constituted sea scout's band. It was Justin and Emily of Total Pap and their array of marvellous creations. It was Samba Pelo Mar and their rhythmical nous. It was Annie Taylor and Alan dressed up as pirates with one of Annie's inimitable mermaids in tow. It was Meadow Grange with the Pirates of the Carri-Blean float, a lorry pulling a trailer filled with exotic plants from their nursery, with octopus tentacles weaving about its body. It was the Croydon Steel Orchestra, with their infectious music. It was the Kent School of the Performing Arts with their incendiary canons. It was Rick West on the lobster bike with his cowboy hat and his secret stash. It was tVC sound system with their house rhythms at the rear, like the Bash Street Kids on a day out at the seaside, causing mayhem and having fun.
---
The total star of the show was the guy with the mobility scooter made into a helicopter that span round and blew bubbles from the back, while he got out and did some crazy dance moves, jiggling his hips, pumping his elbows, twanging his braces and jerking his knees. He didn't even register, so I have no idea who he was. The only thing we know about him was that he was collecting for the Air Ambulance in Surrey and Sussex, and that he was wildly entertaining. You can see a bit of him in Tim Cronin's film below, and in the following link on Facebook.
https://www.facebook.com/theshipwhit/videos/858608708637018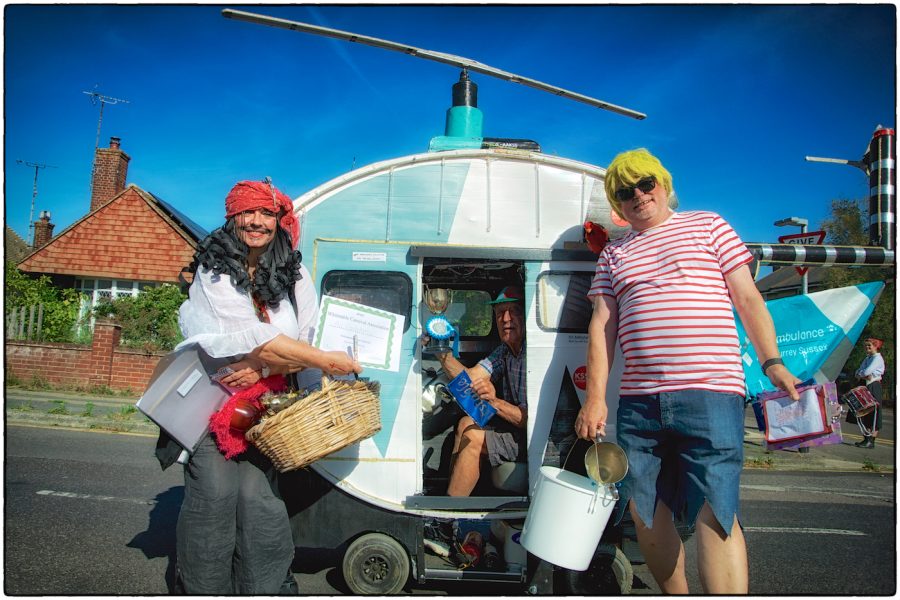 ---
The Crowd
---
Best of all was the crowd who cheered us on. We love you, we love you, we love you. You are all of you our friends.
Everyone's a winner and we all deserve a prize!
---
Film by Tim Cronin:
---
Thanks
We'd like to thank everyone who took part in Whitstable carnival this year, whether as a spectator or as a participant. To everyone on the committee who played your part: pushing giants, driving support vehicles, fixing floats, holding up placards, MC'ing at the bowling alley and all the other million and one things that had to get done. Thanks to Pax Nindi for joining us in our celebrations and to Hélène Williams for sharing the love. Thanks to the museum for looking after the Invicta model for us. Thanks to Julie and Graeme for giving out the prizes, to Sadie for organising the courts and decorating the Surrey, to all the marshals for your resilience and patience, to Rob Holness and the Invicta marshals for keeping the show on the road.
Most of all to Jane Bowell, our wonderful secretary, in hospital and separated from her loved ones, an integral part of the carnival family. You were there in spirit Jane. We could feel you with us all the way.
Get well soon, and here's to you joining us again and helping to organise Whitstable carnival 2023.
It's sooner than you think.
---
Whitstable Carnival online:
https://whitstablecarnival.co.uk/
About CJ Stone
CJ Stone is an author, columnist and feature writer. He has written seven books, and columns and articles for many newspapers and magazines.
Read more of CJ Stone's work here, here and here.
---
About Gerry Atkinson
Training as a photojournalist, I started recording political protests in London in the 1990's. I spent 18 months volunteering with CWERC, an NGO in the Philippines, recording the lives of indigenous women for an audio-visual 'Weaving our own Dreams'. I moved on to New Zealand for 4 years working for newspapers. On returning to London I organised a collaborative project with people with mental health problems to produce 'Through the Lens' documentary photography exhibition.
My MA research in 2010 resulted in a book 'Shades of Other Lives', a series of windows at night, developed in reference to Labour Party comments that "We are all middle class now". In 2011-2012, I spent 10 months in Greece, Cape Town and New Zealand working on documentary projects. Recent community projects are 'Our Work of Art 2018-2019'. I have an NUJ Photojournalist Press Card and am currently discussing new ideas and collaborations.
I studied at Leicester University, the London College of Communication and the University for the Creative Arts.
I have extensive solo and group exhibition experience including the British Museums landmark exhibition "Rice and Life in the Philippines". My work has been published in newspapers, books and magazines and is held in private collections.
Photo by Glen London
To see more of Gerry's work, please go to: https://www.gerryatkinson.com/
---
Whitstable Views: How You Can Help
Make sure you share and like our articles on Facebook and Twitter, and whatever other social-media platforms you use.
Follow the site to get regular updates about new articles when they appear. Press the "Follow" icon in the bottom right hand corner of your screen and that will take you to the option to sign up. (It disappears as you move the text down, then reappears as you move it back up again!)
Leave comments on the site rather than on Facebook. Let's get a debate going. All of our contributors are willing to engage with you if you leave a comment.
To all writers out there, we would LOVE you to make a contribution. Read our submissions page for details on how to go about that: https://whitstableviews.com/submissions/
Finally you can donate. As little as £1 would help. Details on the donations page here: https://whitstableviews.com/donate/