Photo courtesy of Kent Online
Rotarians are taking action to save the environment in Whitstable and worldwide
---
by
---
You may not know much about Rotary Clubs, and I admit I was like that myself before I found out what Rotarians do. In this article I will endeavour to explain. I became a Rotary Club member back in 2021 when I joined the Rotary Club of Wyndham Harbour in Australia, although I was living in Portugal at the time. Rotary Clubs can be found all around the world, and there is one in Whitstable, where club members have been taking action against plastic pollution. Many Rotarians are environmentalists. Many are concerned with creating world peace, another very important subject for me.
---
---
It was my interest in doing something about plastic pollution, such a terrible threat to the environment and life on Earth that most of us are aware of today, that brought me into contact with the world of Rotary. The Australian club to which I now belong discovered me on my Instagram account and offered to feature me in their The Wave magazine. Of course, I accepted and on pages 80-81 I got to talk about my song "Where Does All The Plastic Go?", and the subject of plastic pollution. I was invited to online meetings where I met other club members, and I discovered that my views on saving the natural world were very well received.  I was even invited to be a guest speaker, and again, naturally, I accepted. I am always willing to talk about my interests, especially if I have been invited to do so to an eager audience.
I soon discovered too that there is a branch of Rotary known as ESRAG, which stands for Environmental Sustainability Rotary Action Group. I lost no time in joining that as well and have been attending presentations ever since, presentations by ESRAG members who are involved in all sorts of international work to save the natural world. Tree planting, cleaning up rivers and beaches, mangrove conservation, wildlife habitat restoration, as well as helping to save the Monarch butterfly, are just some of the campaigns and projects that members are active in.
More about ESRAG later on, but let's take a further look at the Rotary Club of Whitstable. The club has its own website page devoted to taking environmental action, and "preserving the planet we share together." In Rotary on The Environment, we learn how local Rotarians took part in a litter cleanup at Kent and Canterbury Hospital, and there's also a video of Whitstable Rotary in Association with "Beach Guardian."
When it comes to taking action, we can all find something we can do where we are in the world. Something that stands out about the world of Rotary for me, is the way members are encouraged to act locally but to think globally. This was an important factor that attracted me to the organisation. So many of the problems we face around the world are shared problems. We are all affected by climate change, by the loss of biodiversity, by pollution. The rivers, wetlands and coasts of the UK are increasingly becoming polluted, not only by plastic, but by sewage. Like I said earlier, we can all do something to help clean up the environment where we live. Rotary Clubs are good examples of people who are doing this.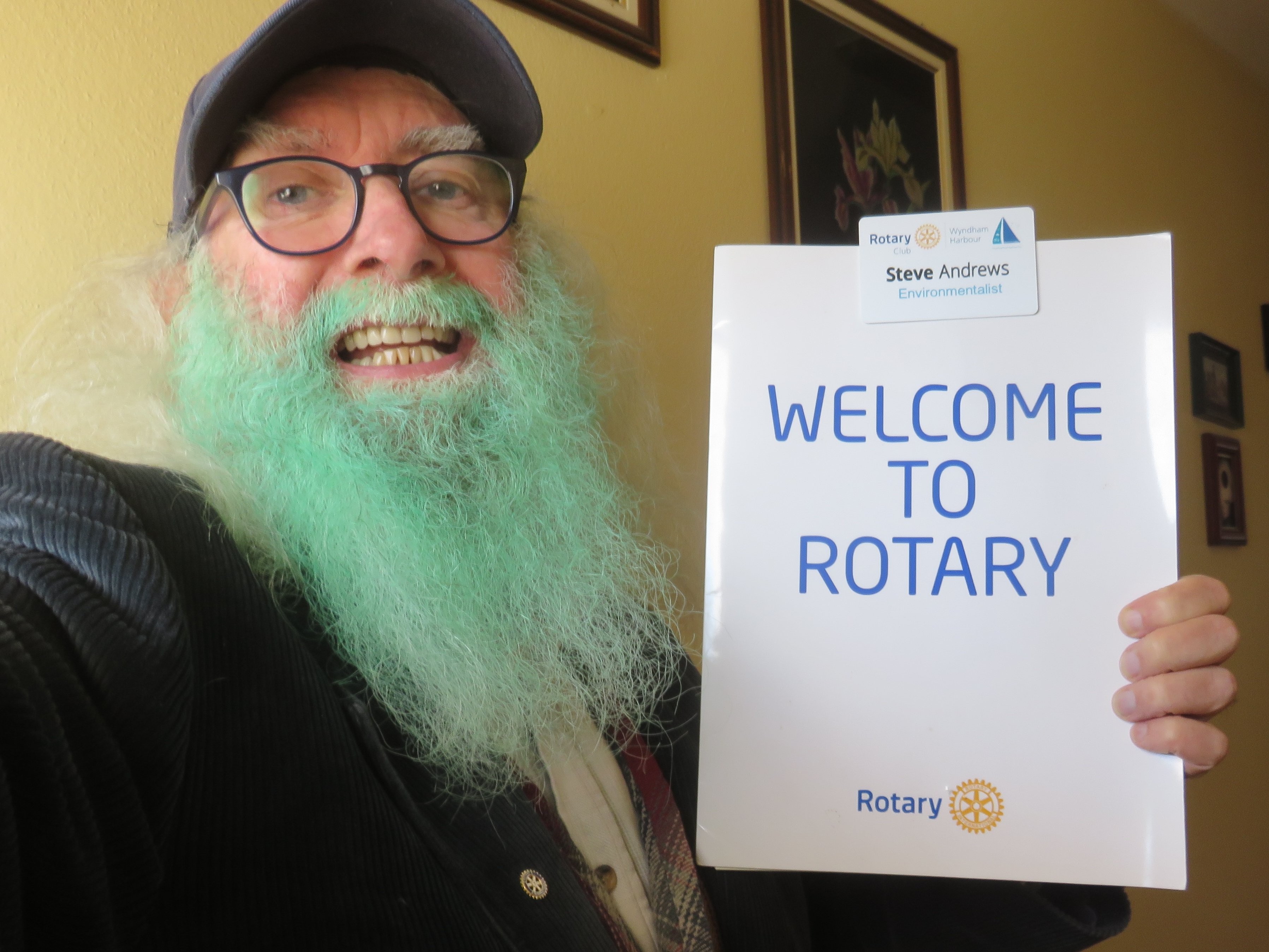 At this point I think I should share with you, what is known to Rotarians as "The Four Way Test," which asks this: "Of the things we think, say or do
Is it the TRUTH?
Is it FAIR to all concerned?
Will it build GOODWILL & BETTER FRIENDSHIPS?
Will it be BENEFICIAL to all concerned?"
I am sure you will agree with me that those questions are all very good ones to ask.
But getting back to ESRAG, one of the many current campaigns I feel is very important, and would be of interest to people in the UK, is called "Adopt A River." As its name suggests, this project is concerned with protecting waterways. British rivers have been becoming increasingly polluted, not only with plastic but with slurry and with sewage. This is having a terrible effect on freshwater wildlife. When we think of rivers, we may well think of Otters, Kingfishers, Trout and Salmon, but how can any of these survive in rivers that are dying due to sewage and pollution? Of course, what comes down a river enters the sea, and there have been discharges of raw sewage into coastal waters adding to the problem. Adopt a River is a global initiative and, as with so many problems we face today, the problem of highly polluted water is a worldwide threat to the health of humans and wildlife.
ESRAG welcomes the involvement of people who are not Rotary club members. You don't have to be a Rotarian to view its presentations and projects, and you can join ESRAG without being a member of Rotary. The organisation's work involves anything to do with helping to protect the planet. Earth is our planetary home and I can't think of a more important cause.
---
---
Steve Andrews
Also known as The Green Bard, Bard of Ely, and Green Beard, Steve is an iconic figure who has featured in books, on radio and television, and also in film. He is, in his own right, a musician, a writer, a lifelong environmental activist, a sometime television presenter, a poet, a Britain's Got Talent feature act, and a champion fighting against climate change, the destruction of trees, and plastic pollution. His power animal is the butterfly, several species of which Steve rears and nurtures in his spare time. Steve is based in the UK and Portugal, but has fans all over the world. https://www.bardofely.org/
WEBSITES:
https://steveandrews.info/https://linktr.ee/steveandrews
https://www.instagram.com/bardofely/https://bardofely.bandcamp.com
https://www.reverbnation.com/bardofelyhttps://www.facebook.com/TheBardofEly/
https://twitter.com/bardofely
BOOKS: Herbs of the Northern Shaman, Herbs of the Sun, Moon and Planets, Herbs of the Southern Shaman, Earth Spirit: Saving Mother Ocean (all by Moon Books)
PUBLICATIONS: Big Issue Cymru, SWND, Kindred Spirit, MyHerbs, Permaculture, Welsh Coastal Life, Celtic Life International, Mediterranean Gardening and Outdoor Living, Bee Culture The Magazine of American Beekeeping, National Federation of Occupational Pensioners, Prediction, and Living Tenerife magazines, Tenerife News, Tenerife Weekly and the Tenerife Sun newspapers, as well as the Huffington Post, Whitstable Views, Tripedia and Ancient Origins websites.
---
Ways You Can Help Whitstable Views:
Make sure you share and like our articles on Facebook and Twitter, and whatever other social-media platforms you use.
Follow the site to get regular updates about new articles when they appear. Press the "Follow" icon in the bottom right hand corner of your screen and that will take you to the option to sign up. (It disappears as you move the text down, then reappears as you move it back up again!)
Leave comments on the site rather than on Facebook. Let's get a debate going. All of our contributors are willing to engage with you if you leave a comment.
To all writers out there, we would LOVE you to make a contribution. Read our submissions page for details on how to go about that: https://whitstableviews.com/submissions/
Finally you can donate. As little as £1 would help. Details on the donations page here: https://whitstableviews.com/donate/