---
by
---
---
TVCabbage: a Whitstable Institution
I went to see my old friend Paul Anderson. He lives on Lucerne Drive, Seasalter, in an ex-council house next door to the railway line. We are sitting in the garden. Conversations are punctuated by the roar and rattle of the trains, four times an hour, up and down the line from London to Margate.
There's a large patch of land which Paul bought from British Rail, which he has left to go wild. There are all sorts of creatures in there, slugs and snails and hedgehogs, plus the local cats, a whole gang of them, who stalk and prey and play in this rewilded stretch of urban jungle. The side wall of his house is covered in bird boxes. Earlier in the year they were occupied, the parents darting in and out of the holes, with worms to feed their chicks.
I've known Paul for over thirty years, since the late 80s. He's a DJ. He is the man chiefly responsible for the tVC sound system which has provided music for east Kent venues and free parties for almost as long as I've been in the area.
I think of tVC as a Whitstable institution, as important, in its own way, as the British Lions or the Rotary Club. Generations of Whitstable youngsters have grown up with the sound of tVC-inspired deep house as the thudding four-four backdrop to their lives, have met and formed couples, and gone on to marry and have children.
I remember one party back in the 90s. It was on a patch of woodland near a lake. It was sometime in early summer, around May Day. Dawn. Ducks were skimming across the lake in a noisy tumult of flapping and splashing, fish were jumping, birds were singing, squirrels were chasing each other through the overhanging branches, the trees were festooned with blossom. The whole world was coming alive, all the creatures of the earth engaged in the joyous celebration of life.
And us humans too. We were as much a part of the ritual of existence as all the other creatures, expressing our human aspirations in this pulsating dance, not separate from the Earth, but the human embodiment of it. It felt as if the Earth was embracing us at that moment, as we were embracing one another.
Paul was a teacher for many years but has since retired. He lost his eyesight due to two detached retinas. He only has limited eyesight in one eye. He's still a DJ though. He must be one of the few registered blind DJs in the country. He does his mixing on a computer these days, with the aid of a large font, a torch and a magnifying glass. He always has his white stick with him.
tVC is still active, doing Ibiza-style sundowner sets on Whitstable beach, every bank holiday Sunday.
The next one will be on May Day, a welcome return of light and life after the darkness of winter. Paul sends a welcome to all readers. "Come on down," he says. "Bring a sausage and a bottle of prosecco with you. Just follow the beats."
(You can find tVC's Facebook page here: https://www.facebook.com/groups/43514139544/ tvcabbage on Mixcloud: https://www.mixcloud.com/oztvc/ Story originally appeared here: https://issuu.com/whitstablewhistler/docs/ww_4_web)
---
Nigel Hobbins: England is Home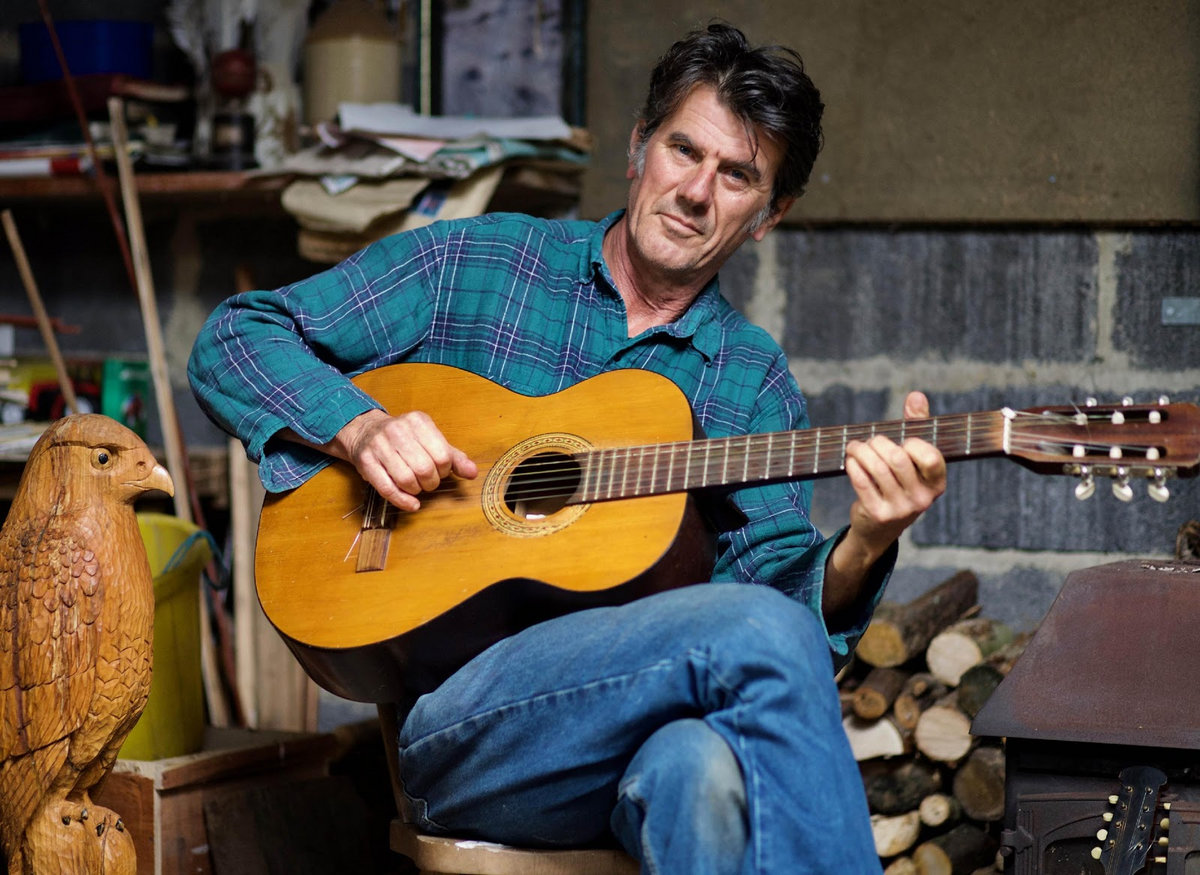 I was walking in the woods with a couple of friends. It was around this time last year, early spring. The wildflowers were out.
One of my friends pointed to a patch of pale yellow flowers carpeting the woodland floor. "What are those?" she asked.
I had no idea. "They are primroses," she said and laughed. She told me that a certain writer had said that every English person would be able to recognise primroses instinctively, just by having been born in these islands, and that I had just proved him wrong.
Nigel Hobbins would have no trouble recognising primroses as he grew up with them. His gran used to sell wildflower posies at the Halfway House in Challock. It was a stopping-off point half-way between London and the coast, so there was a lot of traffic. She taught all her kids, his dad, his aunties and uncles, to spot the flowers and would send them off on jaunts to find them. Consequently, Nigel has absorbed this information into his DNA.
Nigel is one of the most rooted people I know. He grew up near the Pilgrim's Way, and the King's Wood, which lies between Challock and Canterbury, was his playground. He spent his early years exploring it, both physically and imaginatively, and is as naturally at home in the wild and hidden spaces of the Kent countryside as the deer and the fox. It's like he has the landscape in his blood.
He lives in Whitstable now, but commutes to Challock regularly, where he has a workshop in the garden of his dad's old house. He tends the garden and makes various things in there, including sculpture, paintings, furniture, music, jams, pickles, wine and beer. He can turn his hand to most things.
The music he makes is as quintessentially English as the wildflowers he grew up with. Indeed, on his latest LP, Levitating in Lockdown, there are two tunes named after flowers: "Canterbury Bell" and "Michaelmas Daisy". I challenge anyone to listen to these pieces and not be transported immediately to the woodland garden that is Nigel's home: England at its most luscious and kind.
Another favourite song is "Fighting For the Garden of England", from his first album. It combines a wonderful evocation of his childhood – "leaping streams, guarding paths, spying, dragonflies dogfight in sunlit glades" – with a warning about the future, but it ends with a message of hope: "For this is the Garden of England, and it's worth fighting for."
I also like "River Fishing", from his latest LP. It is, as its name suggests, a song about fishing on a river, specifically on the River Stour. Nigel has a wonderful ability to evoke a sense of place. You can feel the life of the river in every note, the shifting currents, the light that shimmers, the fish that hide in its depths.
Nigel's music is deep, poetic, evocative and wise. Whitstable can be proud to call him one of our own.
(You can find Nigel's music here: https://nigelhobbins.bandcamp.com/ And his sculpture and other work here: https://nigel-hobbins.co.uk/ Story originally appeared here: https://issuu.com/whitstablewhistler/docs/ww_5_spring_web)
---
Hélène Williams: Magical Walking
I love to walk. It is one of my greatest pleasures, strolling along in the English countryside, breathing the air, listening to the birds, feeling the sun and the wind on my face, and absorbing nature in all her ever-changing glory. Best of all is when I have a companion with me, someone to share in these simple delights and to converse with along the way.
One of my regular walking partners is Hélène Williams, the artist. Well, I say "artist", but that is only one of her many accomplishments. She is also a psychotherapist, sculptor, ritual magician, healer, poet, academic and performance artist. Whitstable folk will probably know her best for the performances she has given on the beach in conjunction with Mark Fuller, the man who made the diving helmet bench near the harbour. There have been several, including one at the end of the Street in 2016 called The Gateway Between Two Worlds, which included a poem by me. You can find it on YouTube if you care to look.
I first met Hélène back in the early 2000s in the Neptune. Somehow the conversation turned to William Blake, one of my perennial obsessions. Hélène told me she had been brought up as a member of the Swedenborg church in London. Blake had also been a member of the same church, and his famous book, The Marriage of Heaven and Hell, is in part a satire on Swedenborg's ideas.
At the time I was working on material about the English dissenting tradition, that strand of English nonconformist thought arising in the wake of the Civil War, of which the Swedenborg church is an example.
On the back of this, I went to interview her. She lives in a caravan in the back garden of her house, which she shares with a budgie and a wood burner. It's on a peculiar little housing estate on the outskirts of Swalecliffe where all the roads are named after cars. She leant me copies of several of Swedenborg's books which she has owned since she was a child.
I saw some of her paintings and was very impressed. There's a luminosity to her work, an inner glow that seems to shine through the images, like sunlight pouring through a stained glass window.
For a while, we were engaged in a mutual exploration of magical ideas, which made our walks even more fascinating. This slowed down once Hélène started on an MA in mythology, cosmology and the sacred at Christchurch University. This didn't stop me from being interested in what she was doing, however. It was walking with Hélène during the pandemic in 2020 and 2021 that made the lockdown bearable.
Hélène's latest news is that she is now a member of the Golden Dawn, a magical group dating from the 19th century, that once included WB Yeats and Aleister Crowley as members. It's like a university for ritual magicians. And magically, in among all her endeavours, Hélène and I still find time for those walks in the woods together.
(You can see Hélène's work here: http://helenewilliams.co.uk/ Story originally appeared here: https://issuu.com/whitstablewhistler/docs/ww_6_summer_web)
---
Joe Fenlon: Whitstable Shaman
There's a stretch of fencing on Tower Parade, opposite the entrance to the swimming pool. If you walk by you'll see that someone has placed an impromptu exhibition along it. I caught sight of it one day and stopped to look. It's odd and enigmatic, a series of apparently unrelated images of old Whitstable and old adverts, with the occasional nebula thrown in for good measure.
I wondered who had put it there and why? Then I saw the web address on one of the pictures and laughed. Who else could it be but Joe Fenlon?
Many people of a certain age will know Joe. He's a Whitstable fixture, born and brought up in the town. I wrote about him in my first book. I called him "Fen". This was both a reference to his name and to the fact that there's something untamed about him, like a parcel of fenland tucked in the midst of the urban sprawl. You always get the feeling that a little bit of wild nature had just blown in on the breeze when you meet him. I've been pleased to see that he's adopted the name, calling himself Fen Lander online and in his various writings.
He and I were part of the triumvirate who started the road protest back in the 1990s, which was the subject of my book. We called ourselves the Flat Oak Society, after the ancient tree that we were trying to protect. The tree survived, although the road went through.
I always think that there's something of the shaman about him. He lives on the edge, both metaphorically and physically. During the road protest, he lived in a tent in Convicts Wood. Later he was in a shed in someone's garden, and later again in a makeshift shelter in Sea Street. I know his sister Vicky fairly well as she was a postal worker at the same time as me. We often used to chat about Joe, wondering what he was up to these days.
Then he got lymphoma which expressed itself as throat tumours. That was around the time he was homeless. His family rallied round and got him a flat while he underwent treatment. He lost all his hair. In case you haven't guessed, Joe is an old hippie. That hair was his pride and joy, the mark of his identity. I bumped into him one day. I thought he looked pretty cool with his new bald look: slightly edgy and sinister, like a cross between Aleister Crowley and a mob boss.
He said it was the worst thing that had ever happened to him. Not getting cancer: losing his hair. You'll be pleased to know that he made a full recovery from his illness. He still lives in that flat his family provided for him and is engaged in an art project: hence the pictures on Tower Parade. Expect to see an exhibition of his work in the town one day soon. You'll recognise him. He'll be the hippie with the hair.
(You can read Joe Fenlon's work here: https://hubpages.com/@fen-lander Story originally appeared here: https://issuu.com/whitstablewhistler/docs/ww_7_autumn_web)
---
Jim Leverton: Bass Heart
Jim Leverton is a Whitstable institution. Ex-bass player with Caravan, and a musical icon in his own right, it feels like he's been here forever. Actually, he only moved here in 1998. He was playing a gig at the East Kent. There was a woman there who he got chatting to. They exchanged phone numbers and, not long after, he moved in with her. So that's how he came to Whitstable. He was chasing love and he found it here.
He's been all over the world, although he was originally from Kent: from Guston, between Dover and Deal. He was in Fat Mattress, which featured Noel Redding of the Jimi Hendrix Experience. He'd known Noel before, having started his musical career with him in a Kent-based band called The Lonely Ones. He was an apprentice bricklayer at the time but gave it all up to become a bass player.
After Noel left the Experience, he formed Fat Mattress with Jim. There was a tour featuring both groups, so Jim got to know Hendrix pretty well. He says Jimi was a self-effacing sort of guy, who was much more interested in finding out about you than he was in talking about himself, although he did change in the end. Jim says you can't be that big and not change.
In between all this, he was a freelance musician backing up famous singers like Tom Jones, Englebert Humperdinck, Cat Stevens, Leo Sayer and Joe Brown, among others. He's embarrassed about the Humperdinck connection. He says when he discusses his career with other musicians, he doesn't like to mention the famous 1960s crooner. He was awful, he says. Couldn't hit a note. This was in 1967 when Release Me knocked The Beatles off the number one slot. Jim uses a single-syllable expletive to indicate what he thought of that.
Jim's other famous connection was with Steve Marriott, lead singer/guitarist with the Small Faces and Humble Pie. Jim was playing with Joe Brown and the Bruvvers at the time. Steve came to the concert with his gran, who was a big Joe Brown fan.
Afterward, he came to the dressing room. "I like your bass player," he said. That was the start of a 14-year career in Steve's band, The Packet of Three, which only ended with Steve's death in 1991 in a house fire.
It's amazing to think that someone with such a stellar history should be living such an ordinary life here in Whitstable. Unlike some of the other famous figures who have lived here, Jim is very down to earth. He tells his stories of life on the road, and of fame gained and lost, with an ironic detachment, as if the life really belongs to someone else.
He is currently working on his next album, with a number of well-known Whitstable musicians. I heard one of the songs while I was around his house. He put it on and was playing air bass along with it. Still obviously in love with the music that has been his life.
(Jim Leverton's Wikipedia page here: https://en.wikipedia.org/wiki/Jim_Leverton Story originally appeared here: https://issuu.com/whitstablewhistler/docs/ww_8_winter_web_v2)
---
Whitstable Whistler links:
More stories from the Whistler here: https://whitstableviews.com/2021/11/09/three-stories-from-the-whitstable-whistler/
Find the Whistler Facebook page here: https://www.facebook.com/thewhitstablewhistler/
Find online copies of all issues here: https://issuu.com/whitstablewhistler
---
About CJ Stone
CJ Stone is an author, columnist and feature writer. He has written seven books, and columns and articles for many newspapers and magazines.
Read more of CJ Stone's work here, here and here.
---
Whitstable Views: How You Can Help
Make sure you share and like our articles on Facebook and Twitter, and whatever other social-media platforms you use.
Follow the site to get regular updates about new articles when they appear. Press the "Follow" icon in the bottom right hand corner of your screen and that will take you to the option to sign up. (It disappears as you move the text down, then reappears as you move it back up again!)
Leave comments on the site rather than on Facebook. Let's get a debate going. All of our contributors are willing to engage with you if you leave a comment.
To all writers out there, we would LOVE you to make a contribution. Read our submissions page for details on how to go about that: https://whitstableviews.com/submissions/
Finally you can donate. As little as £1 would help. Details on the donations page here: https://whitstableviews.com/donate/